At Heartland United Way, we fight for the health, education and financial stability for every person in every community. We partner with agencies in the community that focus on goals and outcomes in the areas of education, financial stability, and health and we work together to create long-lasting changes that improve lives and create possibilities.  
COMMUNITY INVESTMENT PROCESS
Allocation of Campaign Funds to Community Partners
The Heartland United Way raises money to support programs and services at 17 local Community Partners that positively affect the most pressing issues in our communities. Your one gift to the Heartland United Way, impacts over 20,000 people each year in Hall, Hamilton, Howard and Merrick Counties. The Heartland United Way Community Partners complete a grant application requesting funding for specific programs around Education, Health and Financial Stability. Volunteers, who are also donors, complete an evaluation of the application and presentations from the agencies in order to assist in making funding decisions in a unique process known as the Community Investment Process.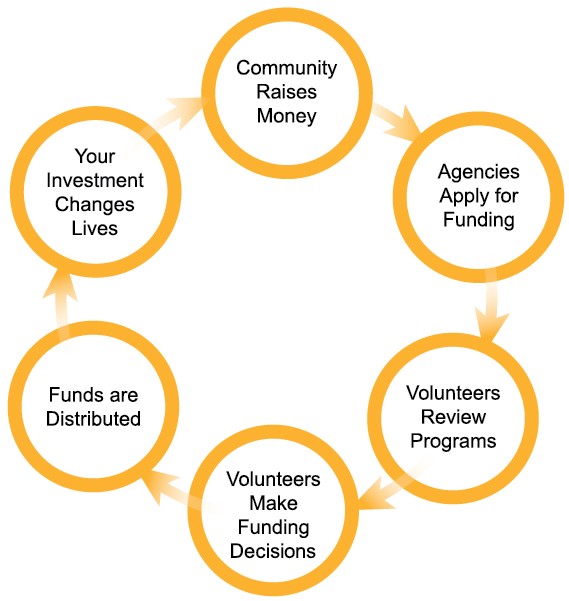 COMMUNITY INVESTMENT PROCESS  - VOLUNTEERS NEEDED
We Need YOU to be part of the Community Investment Process
The Community Investment Process helps to ensure that the community-raised dollars are invested in programs that change lives and align with Heartland United Way's bold goal to decrease childhood poverty. Heartland United Way is currently looking for volunteers to participate in the 2023 Community Investment Process (CIP).  
Community Investment Volunteers work hard for change in our community. They represent the community as a whole and invest community dollars in programs that create real, lasting change in our community. Volunteers ensure the sound investment of funds entrusted to us by reviewing all of the programs and services the Heartland United Way invests in, evaluating each program and service, and making investment recommendations, which United Way's Board of Directors approves. These trained volunteers measure program investments against quality standards, listen to presentations, study issues and complete a comprehensive evaluation to help United Way direct investments to the very best services across our community. Volunteers lead the review of funding requests, program outcomes, financial data and past performance.
Please note: Volunteers must be a current United Way donor or a Corporate Sponsor. Agency personnel for any grant applicant or program funded by the United Way is not eligible to participate. 
Time Frame and Commitment: 
Attend a one hour training session – optional

Review application online and complete an evaluation on your own time

Participate in program presentation and discussion (time commitment is approximately 8:00 AM -1:00 PM). 
Are you interested in volunteering for the Community Investment Process? Fill out the Volunteer Form below.
COMMUNITY INVESTMENT PROCESS – VOLUNTEER FORM
Thank you for volunteering for Community Investment! We appreciate your time and input! Please fill out the following form. Additional email communication will come after you have signed up. If you have any questions, please contact Stephanie at the Heartland United Way at stephanie@heartlandunitedway.org or 308-382-2675.